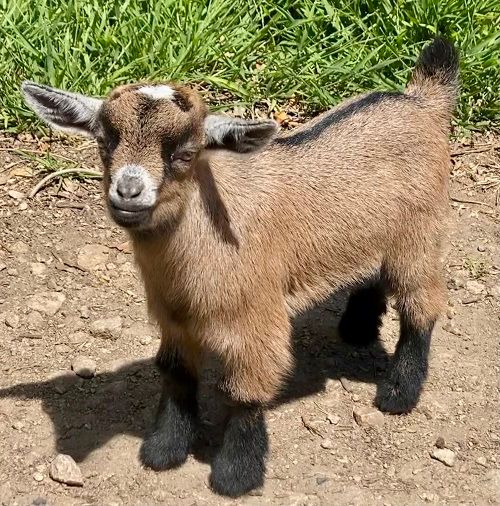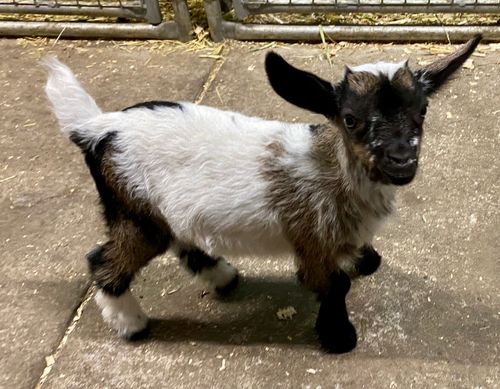 2022 Riverstone Miniature Goats
Stock for Sale
 
Please be aware when purchasing miniature Pygmy goats unless an animal comes with papers including DNA verification you cannot be sure you are getting what is advertised. There are many very expensive non DNA tested goats available. To protect yourself please ask to see paperwork before purchasing.
All our Miniature goats are registered with the MGBA - All Pygmy goats are DNA verified back through their pedigree to the original import DNA, and microchipped. We annually health test our entire herd for JD & CAE and all goats will come with a health certificate for the individual animal if old enough or the parents. If you are interested in purchasing any of the goats listed below please contact us using the inquiry form below with details of the goat your are interested in. 
_________________________________________________________________________________________________
PYGMY KIDS:
Riverstone Mischief Maker P53.1* $2200.00 SOLD
Registered 53.1*% Pygmy Buck Kid - DNA Verified 
Born: 3.10.21       
Sire: Malurus Alakazam P75% 
Dam: AUST CH Riverstone Little Miss Mischief P31.25*% verified higher DNA percentage unverified 
Colour: Frosted Black & Tan Dun
Both parents tested clear of CAE & JD. Dennis is MGBA DNA verified to P53.1* but has a unverified percentage of P65.7 which is evident in his conformation. He is for sale at a reduced price due to this. Dennis is of outstanding quality and has been to a few shows. Dennis will only be sold in to a stud that already has goats as he will need goats around his age for companionship. Please contact me for more details. 
---
Please note: We do not breed large numbers of goats. We are a small hobby farm and only breed for ourselves with the occasional kid/adult becoming available.

We only have what is listed above available at Riverstone and will not be breeding again until SPRING 2022.

If you would like to fill out the enquiry form below, we will try our best to match the most recent enquiries at the time. Due to the large number of forms we get - We will not contact you unless we have a goat to match what you are looking for.

We advise you to keep checking our Website and our Facebook page (Riverstone Miniature Goats) for sales announcements as we do not keep waiting lists, 

thanks Seleena & Stewart
RIVERSTONE MINIATURE GOATS
Waiting List Enquiry Form